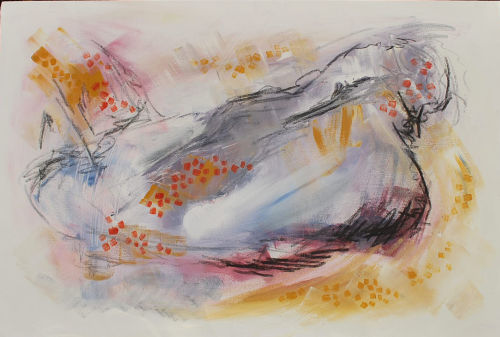 20 x 30″ (50 × 76 × 4 cm)
Original – Mixed Media on Canvas

This is the 2nd painting in the process series and they have came out of a love of the physicality of painting. Also a desire to explore more deeply the ""process"" of how I create an abstract. It has also helped to put my own creative processes under the microscope.
Instead of putting a theme or a certain inspiration at the beginning of the chain of creative events, I have made a decision to follow my instincts in full on painting one. I then took selected elements of each painting into the next one , and therefore, created a chain of painting 'events'.
It's been very interesting how the various elements that I had not considered, (e.g. the changing of light and seasons, places I have been and how my mood various) have found their way into the paintings in (to me) a quite discernable (although totally accidentally) way. These paintings have also led to more representational (e.g. landscape) work that I have worked on in an completely separate project.
Original painting on a deep edge canvas with the painting continued onto all sides, signed on the rear and ready to hang.