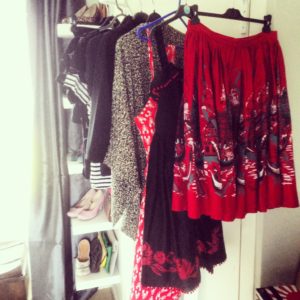 I'll hold my hands up that there was a time in my life when I thought the only reason a person would feel compelled to wear make-up was either the requirements of a job in show business – or a serious lack of confidence. I loved old school hollywood glamour, and I aspired to a groomed brow and a pouty lip… and yet I harboured a vague but judgemental view that anyone who cared that much about their appearance must be a bit narcissistic – and maybe very slightly insecure? I didn't look down on anyone who wore regular make-up (to be honest I envied the skill and dedication looking groomed took), but I guess wanted to make a personal point that I didn't have to.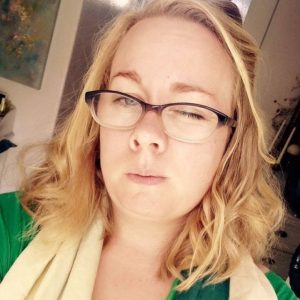 Likewise I thought that caring too deeply about clothes and personal style was something symptomatic of an overly-commercialised society, and I fretted that perhaps if you were too fixated on what you wore you were more society-driven robot than an expressive individual? All those movies I watched as kid in the 80's / 90's where the protagonist only truly fitted in or felt fulfilment following a grand makeover – surely I wanted to fit in on my own terms? I loved clothes, but I was also afraid to love clothes.
Then I got ill…
I won't bore you with the details (if you follow this blog you will already have read about my neurological adventures – I'm currently awaiting brain surgery) but when one feels so ill, so in pain so much of the time with a condition that is unpredictable and unrelenting, it's only natural to seek out other areas of life over which to exercise control… and so I did.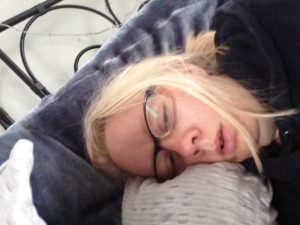 I'm a little overweight, but with feeling nauseous a lot of the time (and seeking solace in food when I'm not), feeling bloated a lot of the time from needing to drink 3 litres of water a day and being limited in the exercise I can do, controlling my weight was not somewhere I could easily win. I have tried to throw myself into work, but with my health so up and down on a daily basis it's hard to set goals and demoralising not to be able to achieve them. I've worked at my charity work, but then equally worried about overcomitting and letting people down. The little house projects I've taken on – replacing furniture, decluttering, organising storage – only offer so much solace…
Over time I noticed something though, I could feel as rotten as you like inside but I could still control how I looked on the outside.
My appearance became more important to me. Fretting over a perfectly colour co-ordinated outfit is a welcome distraction from a sore head. If I have terrible under-eye bags I can cover them with a slick of concealer, and add a little warmth to colour-drained cheeks with blusher. Trawling eBay for vintage scarves or brooches can kill a few hours when stuck on laying flat bedrest. A squirt of nice perfume is an instant pick-me-up. Clothes are pretty, and make-up tutorials on YouTube are frothy and fun.
If I venture out it's often an affair of popping a lot of painkillers, ensuring I have a bag full of pills and sick bags, carefully planning how long I'll be out and carrying a huge bottle of water with me… If someone stops me to compliment my outfit it brightens my day (and makes it about something other than 'getting through' and getting home in one piece).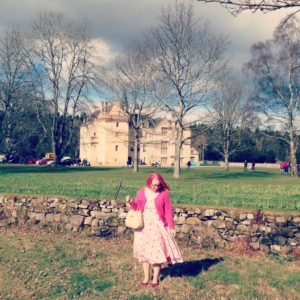 Also if my clothes look neatly put together and my hair groomed, then when my balance fails and I wander the shops bumping into things, holding onto shelves and looking like I've had a few too many gins, perhaps it restores the balance a little?
More than that though, a bit of make up or a nice frock give me confidence. They are a tool in my arsenal against chronic illness as much as medicines and sleep.
I might not be winning at health, but I can win at looking put together.
Since I have become aware of the profound effect the power of appearance has on me, I find myself hearing and reading more from others to support this view…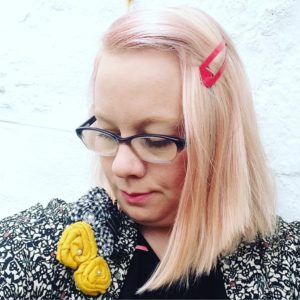 During a recent hospital stay I was given a bed on the cancer ward (as my local hospital doesn't have a specific neurological / neurosurgical ward). I admit I was a little nervous as I was wheeled onto the ward, knowing the patients there would be dealing with far worse than me – but to my delight the ladies I shared a room with were bright with smiles and laughter, and everyone shared a warm sense of camaraderie. One of the topics of discussion amongst my roomies were the free wigs funded by the NHS for chemotherapy patients. Listening to their upbeat chatter about styles and shades of faux-hair I realised that, more than simply covering a bare scalp, these wigs were seen my their wearers as an expression of individuality – a link to themselves and an important act of preference and choice. Delightfully too, the act of the wig salesperson coming to discuss their needs and fit for the hairpiece was seen as an act of caring.
Throughout my hospital admission I was working through a large pile of glossy magazines (whilst on enforced bedrest) and came across an article by Lollie Todd, author of the blog 'A Fashion Buyers Guide to Cancer'. After her diagnosis with ovarian cancer, Lollie writes "I am going to fight this cancer, for my family, for my husband, but mainly for me. And I am going to fight it the only way I know how to fight; with fashion. Fashion is my amour and I need my amour more than ever now. Fashion defines me. I could tell you all of the above in  different way; how when I went to the hospital to hear the 2nd diagnosis, I wore my new Leopard coat from Topshop as it made me feel brave, or how on my sister's wedding day I wore my vintage fur coat as I felt it gave me protection. Each day that I get up and make an effort I feel stronger." I heartily recommend Lollie's blog to you if you enjoy fashion and powerful words from someone with a sassy sense of determination.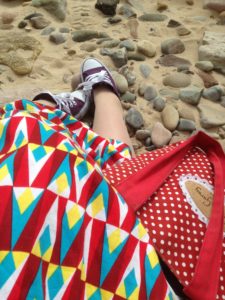 Part of mentally preparing for a tiring day or a big event for me is now outfit planning. All of my anxiety at potentially finding myself unable to speak in a meeting – or wondering if I'll be able to get through the day at all – can be pushed aside if I focus what colour lipstick that best matches my dress, or if a denim jacket can be legitimately worn with a 50s circle skirt.
Choosing how I look empowers me to be a little more than simply defined by my illness – instead of the one who is in pain I can be the one with the colourful skirt, vintage style or pink hair.
Importantly too, controlling the way I look gives me another power –  to decide how and who I share my illness with. Don't get me wrong, I am overwhelmingly surrounded by loving people who have deep compassion for my situation, who will only ask me 'how are you doing' out of genuine caring… But still, sometimes I don't want to share what's really going on. Looking 'turned out' with a mask of make-up makes me more able to say 'I'm okay' and in some sense mean it. It's not intended as an insult to their concern, but on some occasions I simply don't want to spoil the atmosphere of the occasion (or simply detract from a nice sunny day) by telling them honestly about my pain levels, or how I just had to sneak off to throw up in the loo. I maybe don't want to think about all that. It gives me choice. By manipulating the way I look I can manipulate my story… and right now that's the next best thing to truly having control over it.