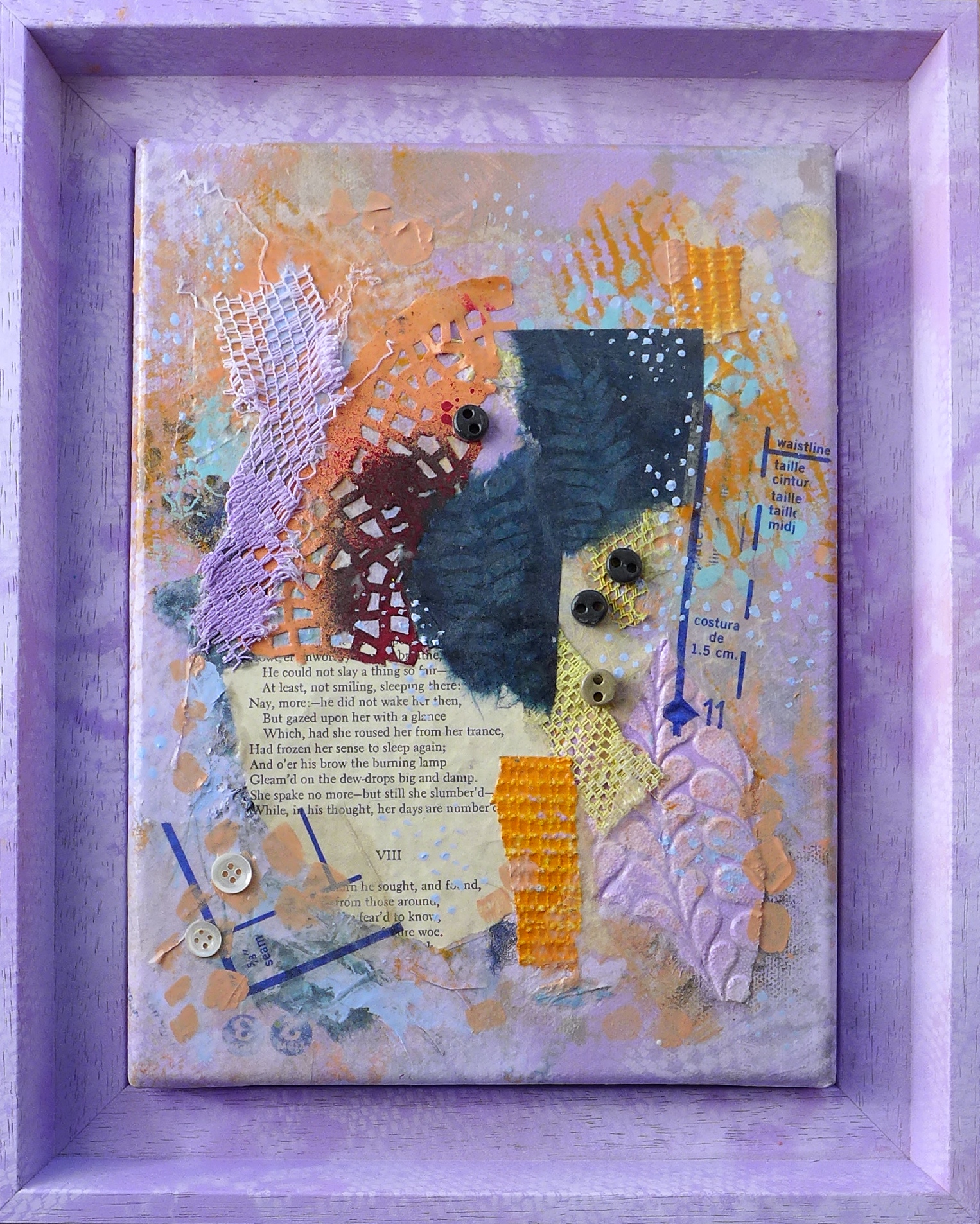 Another new/old work (a piece that was made a little while ago, but has never made it onto the website).
7 x 9.5″ (18 x 24 cm) canvas size
10 x 12″  (25 x 31 cm) framed size
This piece is part of my Household series which come from a love of charity shops and jumble sales, vintage fashion and homewares, social history, historical interiors, street art, ageing, wear and decay and early and mid-20th century artists.
The collage uses pieces of vintage textiles, synthetic cleaning cloth, buttons, remnants from my studio activities, wallpapers, ribbon, embroidery and a page from a vintage poetry book. It is supplemented with spray paint and daubed acrylic paint.
I was inspired by that hall drawer all our grannies had – it might have been located in an old sideboard, or in a hall table with a little seat and shelf for the telephone. The walls of the hall have been painted a lurid 70's colour that would have no place in nature. Gran keeps all sorts in there – it's where she shoves things when she tidies: combs, dress patterns, magazine clippings, broken jewellery, folded pieces of saved wrapping paper, odd keys from houses she's not lived in for 15 years… If she's lost her spectacles this is always the place you say they'll be, but never the place they actually are.
The canvas have been finished in many layers of varnish in order to amalgamate all the elements, protect them and make it easy to care for. The canvas has a dep glazed finish which is in contrast to the matt finish of the bespoke-finished frame. The piece is ready to hang and dispatched with a Certificate of Authenticity.