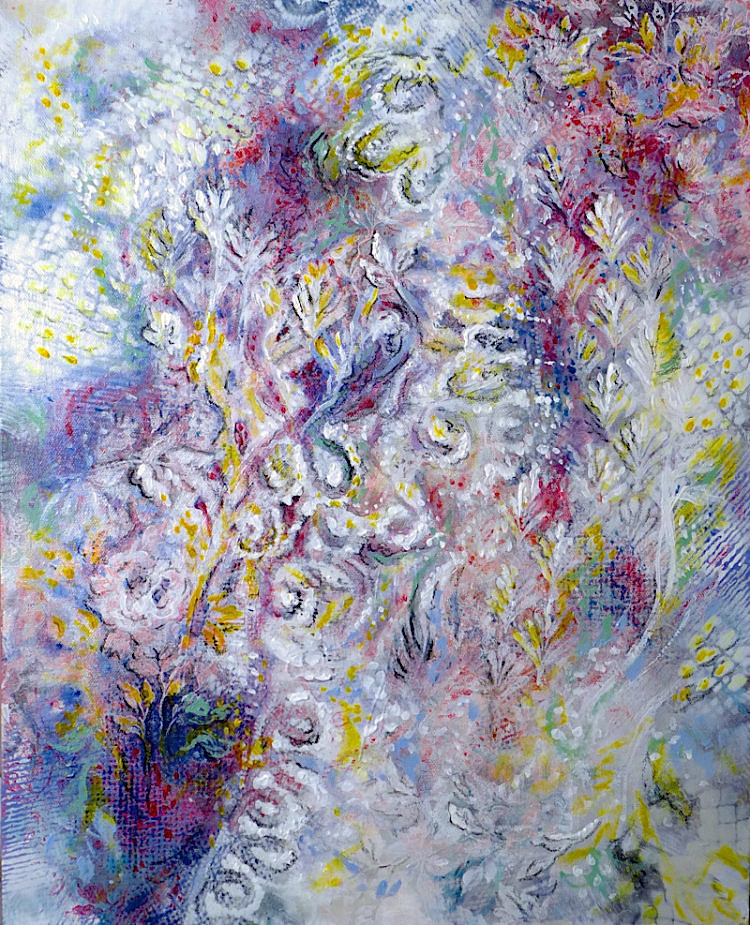 16 x 20″ (40 × 50 × 3 cm)
Mixed media on canvas.
This was inspired by a variety of things – stately homes, draped textiles, embroidery, candlelight, the work of John Piper, ageing and fading… Random things that excited my magpie mind and came together in a fairly spontaneous abstract work.
I was also inspired by my imaginings of Rosehall House in nearby Sutherland, Scotland. I've never been fortunate enough to visit – the place is closed up awaiting promise of redevelopment – but I often drive by the grounds. The now decaying and deserted house was once the property of the Duke of Sutherland and frequented by Coco Chanel during their long affair. It's said she decorated the house house in her signature, opulent style in the 1920s but the house has lain mostly unused since the 1960s, though it's said some of the traces of her interiors still exist.
I wanted to replicate something of the feeling of decadence, low lit but vibrant parties, but also of decay.
The fluid lines represent draped textiles and the painted and surface textures mimic those of fine cloth, carved wood, wallpapers, soft furnishings and old oil paintings. The depth created by a slow build up of multiple layers gives a feeling of complex, layered interiors, and also layering of time and the history of old houses.
On a deep edged box canvas, strung and ready to hang. Signed on the rear and accompanied by a certificate of authenticity.